Writing Through Grief, Loss and Life Transition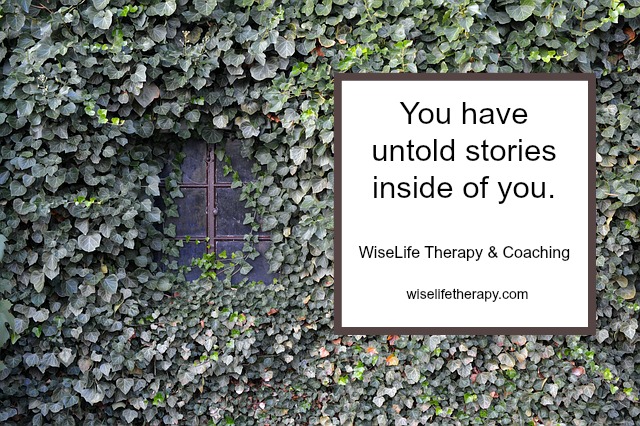 There is no greater agony than bearing an untold story inside of you.                                                                                                                      -Maya Angelou
You have untold stories inside you. We all do. And one of the most nurturing things you can do during times of loss and life transition is to give space to these stories, by writing through grief.
As it turns out, each of us carries a rainbow of untold stories inside of us.
They come in every shade, from light to dark and back again.
Often they're sad stories. Painful. Hard. But they can be uplifting stories too. Stories of your radiance and potential.
These stories tend to surface when you're in the midst of loss or life transition. Grief triggers yesterday's memories, mingling with today's sorrows and confusion.
Almost always, such stories are laden with emotion. But too often they stay locked away, hidden in the metaphorical rooms of your mind. Underneath the mattress. Slipped between the pages of a book. Tucked in the bottom of a drawer.
Stories that are never heard. Never seen. Never witnessed.
Why is that a problem?
Well, stories have a way of wanting to be set free, and it's a burden to hold them back. And when you try to keep them down, especially when you're grieving, they can take on a life of their own, controlling or triggering you in ways you're unaware of.
Yes, even the hidden stories of your radiance and potential can do this, particularly if you feel thwarted or regretful about how things turned out. But you can ease the burden of these stories and make a place for them when you begin writing through grief and loss.
Resources for writing through grief and getting your stories out.
James Pennebaker, a psychologist and researcher at the University of Texas, developed expressive writing, which offers a structured approach to writing about emotional upheaval of any kind.
In his book, Writing to Heal, Pennebaker says:
People who engage in expressive writing report feeling happier and less negative than before writing. Similarly, reports of depressive symptoms, rumination and general anxiety tend to drop in the weeks and months after writing about emotional upheavals.
Pennebaker's process is a great way to begin writing through grief. And the guidelines are simple:
Find a time and a place where you won't be disturbed

Write continuously for at least 20 minutes for four consecutive days

Don't worry about spelling or grammar

Write only for yourself

Write about something extremely personal and important for you

Deal only with events or situations you can handle now
Want to know more? Click here for the full instructions and an in-depth article about the process. 
But what if I'm not a writer?
Like I said above, everyone has untold stories inside of them. And you definitely don't need to think of yourself as a writer to benefit from writing through grief, loss or life transition.
If you'd prefer a less structured approach to expressive writing, there are many writing prompts and writing activities online that you can access with a quick search. In fact, some recent research shows that writing twice a week for only ten minutes can have a positive impact on emotional well being
When you open up to it, you're likely to discover that writing can be many things: therapeutic, healing, renewing and meditative. A vehicle for reflection and personal growth. And a way to spark your creativity and joy.
* * * * *
Do you need help through a loss or life transition? It is my great joy to do this work with women. I offer counseling, coaching and therapy in my Santa Rosa office, as well as by telephone/secure video to women outside the area. To schedule a free consultation with me, click here or call 707-742-9844.