Why summer play is good for your mental health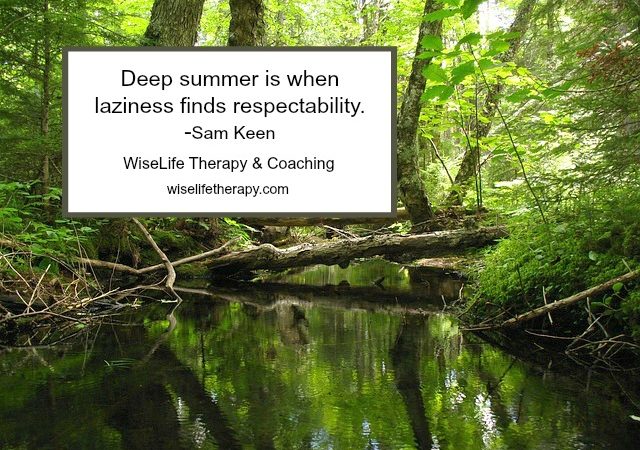 It's the day before the summer solstice, and I'm sitting on my patio writing this in the warm sun. I'm surrounded by just-blooming lavender, riotous (and sweetly scented) jasmine vines, yellow-buttoned santolina and a host of other perennials that are either flowering profusely or soon will be.
The finches are calling back and forth to each other in the trees, and a hummingbird has been hovering above my head, perhaps wondering if it's worth lighting on me to see if there's any good nectar here.
And right now, in this moment, if I had to pick only one reason why summer play is good for your mental health, it would be this: more often than not it gets you outside, and it anchors you in your senses.
In other words, summer play is good for your mental health because it brings you back to yourself.
Sight. Taste. Touch. Smell. Hearing. Movement. They remind you of who you are.
I like to think of play as a nutrient my body needs if I want to experience the full spectrum of life and color. Of course, I could get by without it, but only if I'm willing to limit myself to muddy hues and unfulfilled longings. At least, that's what it feels like to me when I don't have play in my life.
I'm guessing that you already know that play is good for your mental health. The benefits are huge because it…
encourages you to move your body in ways that are pleasing to you
can be creative, adventurous and life-affirming
enhances bonding and communication when you play with others
focuses more on the process than the end result
often takes place in nature and taps into its healing qualities
is a natural anti-depressant and anti-anxiety agent
helps you cope better and be less reactive to stressors
is one of those transformational activities that you can easily access
You probably also know that adults don't really get enough play.
Maybe that's because, in spite of all the studies that say play is good for your mental health, there's also a thinly veiled bias against it. It doesn't quite fit with the emphasis on doing more, being more, having more. Striving, accomplishment, work ethic. You know.
Oh sure, it's fine for children, but once you reach a certain age play becomes…silly? Immature?
Or more likely, you feel like there's simply not enough time for it with the reality of time scarcity and all the responsibilities of adulthood.
The yearning for play persists though, in almost all of us. Real play. Deep play. True play.
I sometimes wonder if we confuse our yearning for deep play with procrastination, and end up berating ourselves for it. Then instead of answering the urge to play, to come back to ourselves, we divert it into something that ends up feeling like we haven't done enough or we're putting things off.
But consider this quote from Stuart Brown, founder of the National Institute for Play:
Play is a basic human need, as essential to our well being as sleep.
So if ever there was time to start embracing more play in your life, summer is it.
Summer invites you to dial back the striving. I've always loved how Sam Keen frames this: Deep summer is when laziness finds respectability.
And when you give yourself over to play, when you set aside agendas and ambitions, you surrender to a kind of purposelessness that is freeing and rare. Because so often, in our attempts to lead meaningful, purpose-driven lives, we forget how important purposelessness is too.
But play opens us up to a fascinating possibility and a new paradox: that purpose and purposelessness can sit side by side, and that our pursuit of meaning requires us to engage in both.
Which, I would say, is another reason why summer play is good for your mental health.
And there's more: I recorded a podcast to get you started thinking about just what summer play means to you.
This month on the Wise Women Writing podcast I'm writing and talking with my friend and colleague Kristie Harris about how summer is the perfect time to replenish and renew, and that play is a big part of that. We start off with some amazing quotes to get you in the spirit of summer, and you can scroll down to read them.
Then, inspired by these quotes, and Mary Oliver's poem The Summer Day, we do some playful writing (and poem making). So come join us! Or I should say…come play with us!
Just click the image below to listen…

Summer afternoon, summer afternoon; to me those have always been the two most beautiful words in the English language. -Henry James
It was June, and the world smelled of roses. The sunshine was like powdered gold over the grassy hillside. -Maud Hart Lovelace
One cannot collect all the beautiful shells on the beach. One can collect only a few, and they are more beautiful if they are few. -Anne Morrow Lindbergh
If you have a garden and a library, you have everything you need. -Marcus Tullius Cicero
Green was the silence, wet was the light, the month of June trembled like a butterfly. -Pablo Neruda
In early June the world of leaf and blade and flowers explodes, and every sunset is different. -John Steinbeck
At these times, the things that troubled her seemed far away and unimportant: all that mattered was the hum of the bees and the chirp of birdsong, the way the sun gleamed on the edge of a blue wildflower, the distant bleat and clink of grazing goats. -Alison Croggon
The beauty of that June day was almost staggering. After the wet spring, everything that could turn green had outdone itself in greens and everything that could even dream of blooming or blossoming was in bloom and blossom. The sunlight was a benediction. The breezes were so caressingly soft and intimate on the skin as to be embarrassing. -Dan Simmons
I have only to break into the tightness of a strawberry, and I see summer–it's dust and lowering skies. -Toni Morrison
Summer, after all, is a time when wonderful things can happen to quiet people. For those few months, you're not required to be who everyone thinks you are, and that cut-grass smell in the air and the chance to dive into the deep end of a pool give you a courage you don't have the rest of the year. You can be grateful and easy, with no eyes on you, and no past. Summer just opens the door and lets you out. -Deb Caletti
Summer set lip to earth's bosom bare; And left the flushed print in a poppy there: Like a yawn of fire from the grass it came, And the fanning wind puffed it to flapping flame. -Francis Thompson
Rest is not idleness, and to lie sometimes on the grass under trees on a summer's day, listening to the murmur of the water, or watching the clouds float across the sky, is by no means a waste of time. -John Lubbock
Life, now, was unfolding before me, constantly and visibly, like the flowers of summer that drop fanlike petals on eternal soil. -Roman Payne