25 Heartfelt Wise Women Quotes for Midlife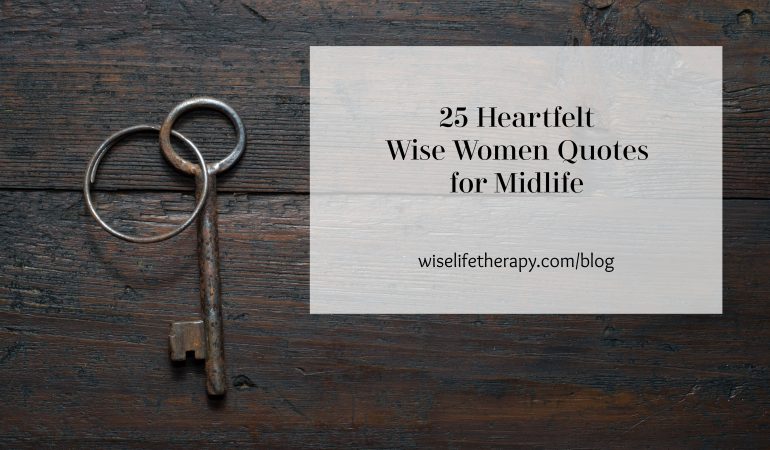 Can you believe that in my 13 years as a blog writer I've never put together a quote post? For some reason the stars have aligned today and I've gathered up 25 heartfelt wise women quotes for midlife.
As I was sorting through the quotes I realized that I wished I'd done this sooner.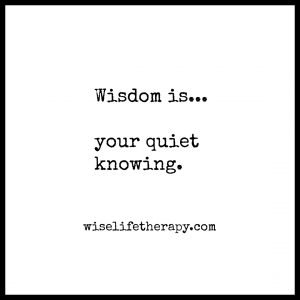 Because these women, and their words, mean something to me. Many of these wise women quotes have been with me for a long time.
And the women who wrote them? Pretty much all of them have walked the midlife path and know a thing or two, deep in their bones.
Not only are the quotes near and dear to my heart, but I know some of them by heart. I've returned to them myself so many times or quoted them to other women in midlife so many times that they are embedded in my memory and bones too.
So I hope there are a few here that will become a part of your heart on the midlife journey too.
25 Heartfelt Wise Woman Quotes for Midlife
1. You do not have to be good. You do not have to walk on your knees for a hundred miles through the desert, repenting.

–Mary Oliver
* * * * *
2. There is a vitality, a life force, an energy, a quickening that is translated through you into action, and because there is only one of you in all of time, this expression is unique. And if you block it, it will never exist through any other medium and it will be lost. The world will not have it.

–Martha Graham
* * * * *
3. This is your body, your greatest gift, pregnant with wisdom you do not hear, grief you thought was forgotten and joy you have never known.

—Marion Woodman
* * * * *
4. We are seeking a wise and wild mother…the mother is a school we are born into, a school we are students in, a school we are teachers at, all at the same time, and for the rest of our lives. Whether we have children or not, whether we nourish the garden, the sciences, or the thunderworld of poetics, we always brush against the wild mother on our way to anywhere else. And this is as it should be.

–Clarissa Pinkola Estes
* * * * *
5. Life is not what it's supposed to be. It's what it is. The way you cope with it is what makes the difference.

–Virginia Satir
* * * * *
6. So people seek the irreproducible moment, the brief, fragile community of story told in one place. The ancient ritual…the living tongue that tells the word, the living ear that hears it, bind and bond us in the communion we long for in the silence of our inner solitude.

–Ursula Le Guin
* * * * *
7. Consider the possibility that what now hampers your life was once a movement of grace that saved it.

 –Sandra Lommasson
* * * * *
8. The most valuable thing we can do for the psyche, occasionally, is to let it rest, wander, live in the changing light of room, not try to be or do anything whatever.

―May Sarton
* * * * *
9. Balance is not a passive resting place—it takes work, balancing the giving and the taking, the raking out and the putting in.

―Robin Wall Kimmerer
* * * * *
10. Time — when pursued like a bandit — will behave like one. At some point you have to stop because it won't. You have to admit that you can't catch it. That you're not supposed to catch it. At some point you gotta let go and sit still and allow contentment to come to you.

–Elizabeth Gilbert
* * * * *
11. Writing will fill your heart if you let it. It will fill your pages and help to fill your life.

–Julia Cameron
* * * * *
12. If you have yet to be called an incorrigable, defiant woman, don't worry, there is still time.

―Clarissa Pinkola Estés
* * * * *
13. When we remember how embedded we are in the Earth, how we are literally made of the same stuff as rivers, rocks and roots, we can see how separating from this beautiful, fecund world might be damaging to our psyches.

—Mary Reynolds Thompson
* * * * *
14. I already know everything I need in this moment to live fully. There is no other book or experience that will make me more complete.

–Christine Valters Paintner
* * * * *
15. The desire to reach for the stars is ambitious. The desire to reach hearts is wise.

–Maya Angelou
* * * * *
16. Through imagination gradually I came to believe in something beyond a loss or setback…As a psychotherapist who has worked with trauma survivors for decades, there is one thing I have learned about restoration of the self. Those individuals who seem to do best are eventually able to imagine new narratives for body and mind."

–Cathy Malchiodi
* * * * *
17. There is no greater agony than bearing an untold story inside you.

–Maya Angelou
* * * * *
18. As the creative force passes through your inner world, it carries images and feelings that are uncompleted, unfinished, misunderstood, not experienced or denied. By spontaneously [expressing] them, healing happens, not because of what you do with the image or meaning, but because of the powerful cleansing energy of creativity.

–Michele Cassou
* * * * *
19. Paradoxically, it is not until we have fully come to understand the impossibility of knowing anything for sure that we can let go, stop working at knowing, and allow wisdom to come to our lives as a gift.

—Carol Pearson
* * * * *
20. This revolutionary act of treating ourselves tenderly can begin to undo the aversive messages of a lifetime

.–Tara Brach
* * * * *
21. Perhaps your list of pressing tasks is still long. Leave it there fluttering in the breeze, uncrossed, undone, unfinished…to do the only thing you can do.

–Christine Valters Paintner
* * * * *
22. I am devoted to the practices and rituals that imbue our lives with a sense of meaning and purpose, that help me to live my days in the most emotionally and intellectually productive manner. I am devoted to the notion of devotion itself.

–Dani Shapiro
* * * * *
23. If you go deeper and deeper into your own heart, you'll be living in a world with less fear, isolation and loneliness.

–Sharon Salzberg
* * * * *
24. The power of positive destruction is enormously healing and liberating.

–Caroline Myss
* * * * *
25. If you are in the sometimes more difficult aspect of the Life/Death/Life cycle, meaning in the side of entropy, losing energy, death, and all this occurs before transition to new life of whatever stripe or kind…the most enduring lantern I can light for you on your way through the dark, carries this one little but eternal golden flame: It has been so, it is now so and it will ever be so, that death is a night between two days.

–Clarissa Pinkola Estes
It's the end of the wise woman quotes journey…but wait, there's one more.
I almost forgot it, and I can see now that it's probably had more influence on me than I realized. Because you'll often hear me say…
You are wise. You have a quiet knowing. And you already know so much about how to live your life.
And long ago Jane Austen was trying to say the same thing, I think…
We have all a better guide in ourselves, if we would attend to it, than any other person can be.
Today, in my imagination, I raise my glass to that inner guide within you who always has your back, wherever the path takes you.
* * * * *
Are you longing to feel more connected to your own inner wise woman?
If you'd like help knowing yourself better and accessing this deep and wise part of you, my free course — Finding Yourself Again — is a good place to start.
My course can help you gain insight on the critical voices and beliefs within you and begin to transform them with creative and imaginative approaches. It's based on the same practices that have helped my clients reclaim what's missing and move toward what matters.
You can learn more about this free course here. And if you have any questions, do get in touch.